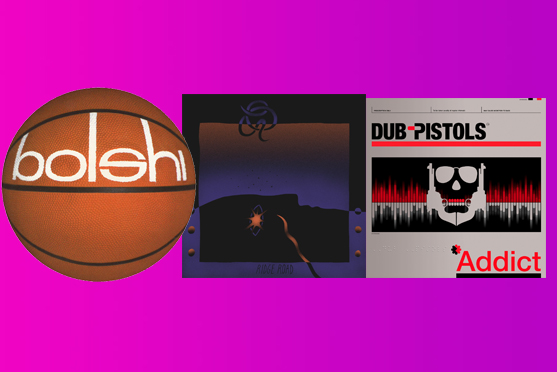 15th February 2021
Latest Sunday Best News: Bolshi Records, New Wayward single & Dub Pistols 'Addict'
BOLSHI RECORDS RELEASING CATALOGUE DIGITALLY
Label boss and co-founder, Sarah Bolshi, is finally re-releasing her Bolshi Records catalogue digitally. Founded in 1995, Bolshi was at the forefront of the breakbeat scene together with Skint and Wall of Sound.
Today sees the release of 'International' by Laidback, one of the first releases on the label.  Consistently featured as Number 1 in club lists and played in clubs throughout the world, 'International' is a Breaks and Acid House whirlwind.
Bolshi records released an impressive 20 albums and 100+ singles, so watch this space for more

'INTERNATIONAL' 
TRACKLIST
1. Album Tracking
2. Rock Your World
3. That Funky Boom
4. Coldrock
5. Wobble
6. Knock Knock
7. International
8. B-Boy Noise
9. Hip Hop Loves You
10. Launch The Raunch
11. Go Off
12. Laidback Attack
13. Wrecktify
14. Until Next Time
"THE FIRST MUST HAVE LP OF 98" – Mixmag Update, 98
"Up-for-it bassbin belter with gonads aplenty" – NME, 97
"Will wreck your decks and fry your brain. Check it." – Loaded, 97
---
SILVER BEAR'S WAYWARD RELEASE NEW SINGLE 'RIDGE ROAD'

Louis Greenwood and Lawrence Hayes have gained some serious steam in recent years. They've co-crafted cuts for artists across a spectrum of genres; from studio sessions with Grammy-winning creative giant Skrillex, to Ninja Tune's Park Hye Jin.
'Ridge road' follows their previous single 'Back To The Old Days', which received support from Boiler Room, Tom Ravenscroft and Jaguar to name a few, and further confirms Wayward's ability to conjure up melancholic, transportive sounds. In production for over 2 years, the track features uplifting piano motifs, driving breakbeat drums and spacey synths.
---
PRE-SAVE 'ADDICT THE REMIXES VOL 2'. 
'ADDICT' AVAILABLE ON WHITE VINYL NOW. 
The 'Addict' remixes keep coming! Expect more high-octane Jungle & DnB reworks of Dub Pistols' chart storming album 'Addict'. The EP is set for release on the 23rd February with remixes from Bass music stalwart King Yoof to Bristol underground mavericks Riddim Punks.
Thanks to those of you who have already got their orders in for the 'Addict' repress on white vinyl. We will be shipping those out very shortly. There are still limited copies available if you fancy getting your hands on one.