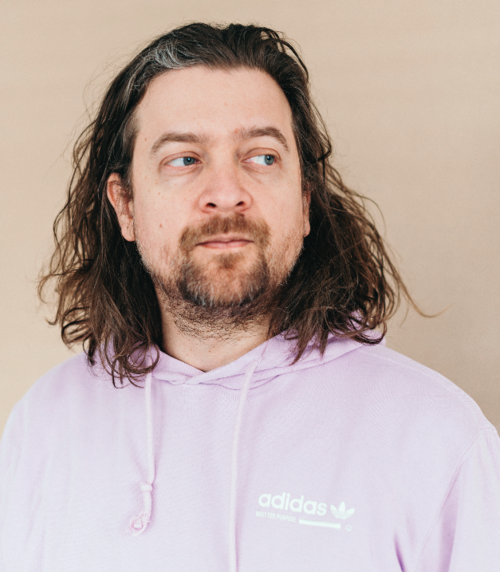 25th October 2019
New Klaus remixes featuring Prins Thomas!
The enigma Klaus Blatter is well and truly back. After storming sound systems with his eccentric '(I Find Myself Surrounded By) The Lunatics Of Acid House', which garnered  heavyweight fans including Rhythm Masters, Erick Morillo and Laurent Garnier, the Dortmund native returns from the studio with the equally impressive 'Space Girl' co-produced by Danny Rampling. There is also a remix of 'Space Girl' incoming from the legendary Todd Terry to be revealed in a few weeks time. 
Trippy, undulating, drawn out synths lines effortlessly glide around a prominent kick, as Klaus serves up a distinctive top line and the acidity of the track kicks in,  tangling you further in his decadent cosmo-web of dancehall sin!  
 Mysterious German Acid-House legend Klaus Blatter, re-emerges with even more superb remixes, this time from Norway's finest neo-disco freak Prins Thomas and US-born and UK based acid DJ and producer ILONA.
Prins gets things moving with a vibrant reworking, bringing his own organic, live drum sounds to the table. Taking the acid line and giving it some extra wallop, he progresses across the eight-minute track with snippets of Klaus' vocals and plenty of open hi-hat disco madness. ILONA delivers a heavy rolling techno mix, with entrancing, rolling kick drums, expertly chosen vocal snippets and a whole new approach to the acid-line. Her ability to produce absolute slammers is evident and this one is no exception! 
 In his own words, "Space Girl is a song about a beautiful young lady I once knew who I was infatuated with, when, as a youth, I opened the legendary Technosphere club in the city of Dortmund on the industrial Rhine. She had no time for me initially, but I pursued her with zeal and made her my lover. Unfortunately, her young life was cut short when she tragically drowned in the lake. Sometimes when I walk along the banks of those cold, frozen waters, dusted in shimmering moonlight, I look up to the stars and believe I can hear my beloved Clara calling me: 'Klaus..' she is for saying, 'there will never be another like you, my darling Klaus…' Then I laugh at my childish sentiment. Ha! "   
 Klaus has been a pivotal influence on the development of electronic music, but has received little recognition for his work. He's been the catalyst for key events that changed music history, but his name is absent from the history books. His enthusiastic acolytes call him a pioneer. His detractors claim he's a charlatan and a fantasist. 
 There are many other instances at key points in music history where Klaus was a catalyst for an important development in the culture. These will become self-evident in the assorted interviews Klaus will be granting to the media over the coming months, and in the TV documentary that's just been commissioned about Klaus's life and times. 
 Klaus made his comeback live appearance at Glastonbury and will be announcing a UK live tour imminently.