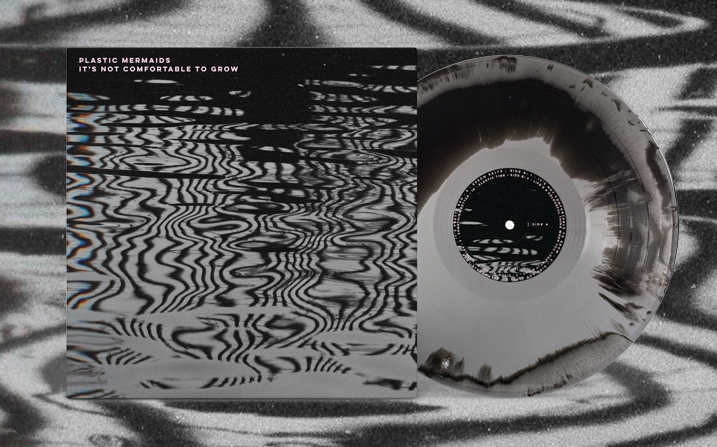 14th April 2022
Plastic Mermaids Announce New Album!
They're surfers, they build their own effects pedals and they once sketched out the designs for a synthesiser played entirely by pigeons but on their second full-length album 'It's Not Comfortable to Grow', due for release by Sunday Best on the 16th September, the endlessly inventive Isle Of Wight five-piece Plastic Mermaids are facing their dark side.  The remarkable album is a profound and emotional exploration of the many facets of heartbreak, seen through the eyes of frontman and lyricist Douglas Richards. 
 The sun-bleached, sauntering 'Disposable Love' is the first single to be revealed from the album and one of the moments that finds Douglas exploring moments of passing relief, as he explains "it's about wanting to get back to a younger place, a freer place; a feeling of not having much worth, but being nostalgic for that." 
The single arrives with a joyous visual, made by Douglas and comprising of old footage of the band as teenagers skateboarding and partying. 
 At the heart of Plastic Mermaids is the creative force of two brothers, Douglas and Jamie Richards, who approach life like an art project, putting as much love into their band's visual concepts and staging as they have into their unique brand of psych-rock and electronica. For Jamie, a tech genius who insists on making a piece of equipment for every sound he imagines in his head, the last two years have been busy with building and marketing his Planetarium effects pedal – a machine that makes lush, swirling reverb. It's been used by Bon Iver, Arcade Fire, War Paint, Kurt Vile, Granddaddy, Olafur Arnalds, Wilco, Chvrches, Bicep, Patrick Watson, Hot Chip and Glass Animals – he even gave an early model to Flaming Lips' Wayne Coyne.  
 Tracks were written from the start of the first lockdown in March 2020 and recorded in the band's self-built studio at Douglas and Jamie's father's house in Gurnard (Doug, Chris and Jamie live nearby in Cowes, bassist Tom is in Newport and drummer Chris in freshwater).  
 It's Not Comfortable to Grow will be released digitally, on CD, standard black vinyl & a limited edition splattered vinyl.