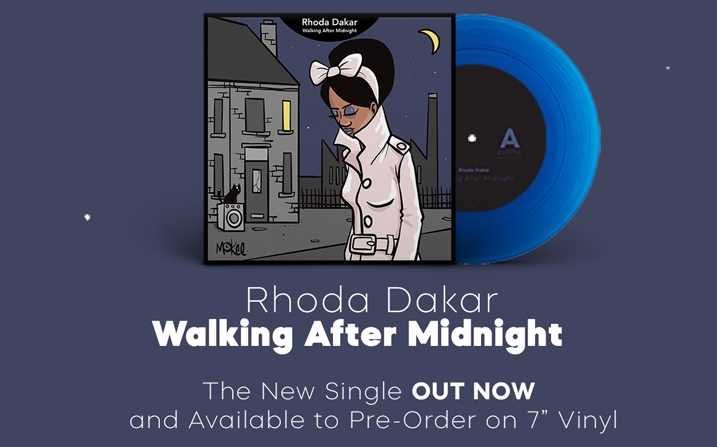 4th April 2022
Rhoda Dakar Releases New Single + Announces 7″
Following the January release of her excellent cover of 'The Man Who Sold The World', Sunday Best Recordings are pleased to announce the release of their third Rhoda Dakar single, 'Walking After Midnight'.
Originally recorded by Patsy Cline (written by Alan Block and Donn Hecht), 'Walking After Midnight' is considered one of the greatest songs of Country music.  Although widely covered, it has never received the Ska treatment. Until now. As with Rhoda's previous two Sunday Best singles (the first being a cover of 'Everyday Is Like Sunday'), Rhoda and her band recreate the classic sound of Jamaican Ska pioneered by drummer Marley great grandfather, trombonist Don Drummond. A flowing bassline, rhythmic guitar and keyboards and buoyant brass accompany an outstanding vocal performance and superb backing vocals and harmonies. The b-side is a 'Midnight Skank' version of the track featuring MC Natty Campbell.
"I was introduced to Country music through Elvis Costello's Almost Blue album," Rhoda says of the roots of her discovery of the song. "I loved 'Sweet Dreams' and once I heard Patsy Cline's version I was hooked. Even my kids used to request 'Crazy' in the car. After Sarah Everard's murder 'Walking After Midnight' was the first tune that came to mind, especially as I, too, had taken to walking around after dark during lockdown. Somehow it felt safer. It seems the predators felt so too."
Rhoda's version of the song was recorded at Perry Vale Studios in London and produced by guitarist Lenny Bignell, who has worked with almost every legacy Reggae artist. They were accompanied by bassist Andi McLean, aforementioned drummer Marley Drummond, Louis Vause (piano), Evan Clegg (trumpet), Trevor Edwards (trombone) and Nathan Austin Thomas (backing vocals).
'Walking After Midnight' is the third in a series of five 7" singles all mastered by dubstep pioneer Jason Goz at Transition Mastering – each b/w dub versions – which will be released from now up until Rhoda's new album this autumn. Each sleeve will be exclusively designed by renowned Sheffield artist Pete McKee.
Stream the new single below and pre-order the 7″ HERE.