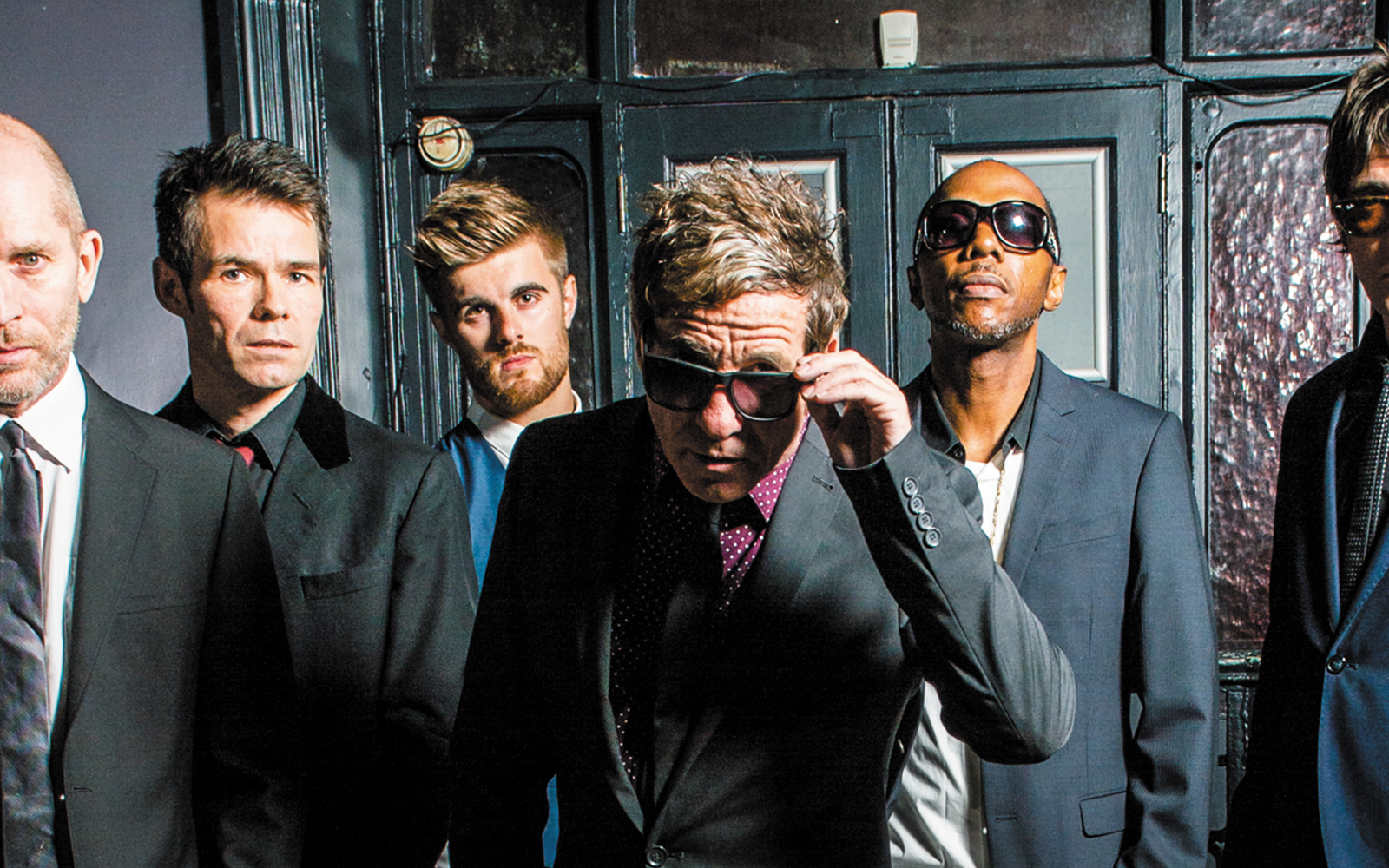 Over an 18-year career the Dub Pistols have worked with heroes like The Specials, Busta Rhymes, Horace Andy, Madness and Gregory Isaacs. They've burned through different members and hundreds of thousands of pounds on assorted capers and hedonism, and done — in the words of dapper frontman and prime mover Barry Ashworth, a ducking, diving South London graduate of the Summer of Love generation who started a band because he loved Happy Mondays and never looked back — "more fucking drugs than we knew what to do with."
The band that started out in the mid-90s with Barry DJ'ing while musicians jammed over the top ("a right fucking racket," he laughs) has metamorphosed into a mighty reggaematic bass-driven live machine, a super-tight festival regular that keeps winning over new fans at Glastonbury, Bestival, Beat-Herder and across Europe.
And that hard-won discipline gets its showcase in their new, sixth and best album, 'Return Of The Pistoleros', released on Rob Da Banks's much-loved Sunday Best imprint on June 1st. From the armagideon horns and implacable bass march on opener 'Real Gangsters' — with guest MC Neville Staple of The Specials — via the Ennio-Morricone-goes-drum'n'bass title track, the pure skank of 'Sticky Situation' and collaborations including MC Earl 16, Lindy Layton, Jamaican stars Chezidek and main vocalist Seanie Tee AKA Dark Horizon, it's a full-on dub-quaking anthemic extravaganza built for big fields and summer sound systems.
Key to the new set-up is a mix of old and new Dub Pistols including Barry's "go-to man" Tim Hutton who has co-written for Groove Armada, Ian Brown and the new Prodigy album. Tim slots in for departed Dub Pistol Jason O'Bryan who "ran off with a Djakartan princess."
Now the Dub Pistols are one of the few remaining working class bands who carry the flame of reggae-driven sound system music, the secret rhythm of Britain from ska and rocksteady through Soul II Soul to grime and dubstep and beyond. "I always thought that being in a band wasn't for people like me," Barry admits. "It was more a middle-class thing. It was the Mondays that changed that. We're part of street music, working class music That's never going to go away."
Recently the reformed Happy Mondays tweeted that the Dub Pistols were the best live band they'd seen in years. And Shaun Ryder's crew will feature in a documentary that Barry is putting together, a mix of archive and new footage that charts the Dub Pistols' strange journey from chancers to hot property to epic fuck-ups to unlikely triumph. It'll be called 'What The Fuck Can Possibly Go Wrong? The History of the Dub Pistols'.
"It's about everything that's ever happened to us, all the ups and downs, the victories and disasters," says Barry. "I call us the most successful unsuccessful band of all time — and the hardest-working lazy bastards in the world. Sometimes I can't fucking believe we're here, but we've survived and we're doing better than ever.
"You know what? It's just like they say," he grins. "If you're doing something you love, you never work a day in your life."
Facebook | Twitter  | Soundcloud |